External resources
---
External publications using SFID data (chronological)
Baker, Bruce D., Weber, Mark, and Srikanth, Ajay. Forthcoming. Informing Federal School Finance Policy with Empirical Evidence. Journal of Education Finance.
Green, Preston, Baker, Bruce D., and Oluwole, Joseph. Forthcoming. School Finance, Race, and Reparations. Washington and Lee Journal of Civil Rights and Social Justice.
Srikanth, Ajay, Atzbi, Michael, Baker, Bruce D., and Weber, Mark. Forthcoming. "How States Fund Education." In Bowman, Kristine L. (ed.), The Oxford Handbook of U.S. Education Law. Bethesda, MD: Oxford University Press.
Bradbury, Katharine. 2021. Racial and Socioeconomic Test-Score Gaps in New England Metropolitan Areas: State School Aid and Poverty Segregation (New England Public Policy Center Research Report 21-2). Boston: Federal Reserve Bank of Boston.
Weber, Mark, and Baker, Bruce D. 2020. School Funding in New Jersey: A Fair Future for All. Trenton, N.J.: New Jersey Policy Perspective.
Baker, Bruce D., Srikanth, Ajay, Cotto, Robert Jr., and Green, Preston C. III. 2020. School Funding Disparities and the Plight of Latinx Children. Education Policy Analysis Archives 28(135).
Baker, Bruce D., and Di Carlo, Matthew. 2020. The Coronavirus Pandemic and K-12 Education Funding. Washington, D.C.: Albert Shanker Institute.
Baker, Bruce D., and Chingos, Matthew M. 2019. Toward a Rich Data Future for School Finance Research. AERA Open 5(4): 1-6.
Related reports, books, and articles (alphabetical)
Baker, Bruce D. 2016. Does Money Matter in Education? (second edition). Washington, D.C.: Albert Shanker Institute.
Baker, Bruce D. 2017. How Money Matters for Schools. Palo Alto, CA: Learning Policy Institute.
Baker, Bruce D. 2018. Educational Inequality and School Finance: Why Money Matters for America's Students. Cambridge, MA: Harvard Education Press.
Baker, Bruce D., Weber, Mark, Srikanth, Ajay, Kim, Robert, and Atzbi, Michael. 2018. The Real Shame of the Nation: The Causes and Consequences of Interstate Inequity in Public School Investments. New Brunswick, NJ: Rutgers University.
Candelaria, Christopher A., and Shores, Kenneth A. 2019. Court-Ordered Finance Reforms in the Adequacy Era: Heterogeneous Causal Effects and Sensitivity. Education Finance and Policy 14(1): 31-60.
Hanushek, Eric A. 2003. The Failure of Input-Based Schooling Policies. The Economic Journal 13: F64-F98.
Jackson, C. Kirabo. 2018. Does School Spending Matter? The New Literature on an Old Question: Cambridge, MA: National Bureau of Economic Research.
Jackson, C. Kirabo, Johnson, Rucker C., and Persico, Claudia. 2016. The Effects of School Spending on Educational and Economic Outcomes. The Quarterly Journal of Economics 131(1): 157-218.
Ladd, Helen F., and Goertz, Margaret E. 2015. Handbook of Research in Education Finance and Policy. Abingdon, UK: Routledge.
Lafortune, Julien, Rothstein, Jesse, and Schanzenbach, Diane Whitmore. 2018. School Finance Reform and the Distribution of Student Achievement. American Economic Journal: Applied Economics 10(2): 1-26.
Nguyen-Hoang, Phuong, and Yinger, John. 2014. Education Finance Reform, Local Behavior, and Student Performance in Massachusetts. Journal of Education Finance 39(4): 297-322.
---
Organizations
---
Latest News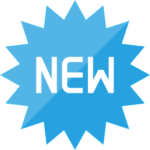 NEW DISTRICT ADEQUACY DATABASE AND RESEARCH BRIEF

March 2021: New database of spending adequacy in over 12,000 districts. Read the accompanying research brief, view profiles of individual districts, or download the full dataset.
Latest Annual Report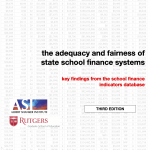 The Adequacy and Fairness of State School Finance Systems

The third edition of our annual report presenting findings on effort, adequacy, and progressivity in state school finance systems. Published January 2021. Read the report.
Latest Research Briefs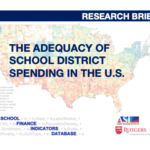 BRIEF: The Adequacy of School District Spending in the U.S.

Key findings on the adequacy of school district spending from our new District Cost Database for the 2017-18 school year. Published March 2021. Read the report.