Visualization: Relationships between state indicators
---
The visualization below creates a scatterplot showing the relationship between two variables in our State Indicators Database. Select two variables using the drop-down menus (one for the horizontal [x] axis and one for the vertical [y] axis). The blue circles that appear in the plot are states (you can identify them by mousing over them). The line in the scatterplot is a "best fit" line, and it represents the average relationship between the two variables you select. All data are for 2019. Note that not all variables in our state database are available in the drop-down menus.For more information on these measures, see our State Indicators Database user's guide and our annual report. You can also download the full dataset.
---
---
Visualization by Bilan Jama and Lauren Schneider
---
Latest News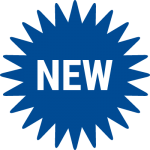 NEW RELEASE: SECOND EDITION OF DISTRICT COST DATABASE

February 2022: Evaluate K-12 funding adequacy for 12,000 districts between 2009-19. Download the full dataset or see results for your district with the DCD data visualization tool.
Latest Annual Report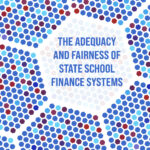 The Adequacy and Fairness of State School Finance Systems (fourth edition)

The fourth edition of our annual report presenting findings on effort, adequacy, and progressivity in state school finance systems. Published December 2021. Read the report.
Latest Research Briefs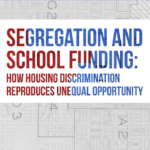 Segregation and School Funding: How Housing Discrimination Reproduces Unequal Opportunity

An analysis of the historical and contemporary relationship between segregation and K-12 school funding. Published June 2022. Read the report.