Visualization: district spending adequacy profiles
---
This tool allows users to display and visualize K-12 spending adequacy for over 12,000 individual U.S. school districts in each year between 2009 and 2019. Choose a district by selecting a state, district, and year, and then pressing the "apply" button. The visualization is separated into four tabs (click on a tab in the visualization to display):
Spending adequacy: compare actual spending per-pupil in the selected district/year with the spending level required (i.e., adequate) to achieve national average test scores.
Adequacy/outcomes: compare adequacy with the average testing outcomes in the selected district/year.
Trends: examine the trend in the selected district's funding adequacy (expressed in $ gaps) between 2009-19.
Characteristics: display contextual district data, including Census poverty and student race/ethnicity.
All of the data in the visualization are from our District Cost Database (DCD). For more information about these measures, see the DCD user's guide or check out this research brief. You can also download the full dataset.
---
---
Latest News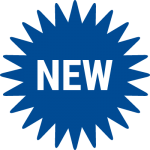 NEW RELEASE: SECOND EDITION OF DISTRICT COST DATABASE

February 2022: Evaluate K-12 funding adequacy for 12,000 districts between 2009-19. Download the full dataset or see results for your district with the DCD data visualization tool.
Latest Annual Report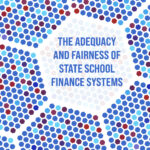 The Adequacy and Fairness of State School Finance Systems (fourth edition)

The fourth edition of our annual report presenting findings on effort, adequacy, and progressivity in state school finance systems. Published December 2021. Read the report.
Latest Research Briefs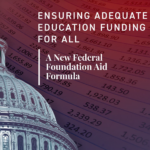 Ensuring Adequate Education Funding For All: A New Federal Foundation Aid Formula

A proposal for and simulation of a new "foundation aid formula" approach to federal K-12 education funding. Published September 2022. Read the report.